Although we decided to live small doesn't mean we have to stop doing the things that we love, and one of those things is cooking for our friends and family. In the past, this has been quite easy for us since we have primarily lived in large dwellings with open floor plans, but moving into 200 sq ft. means serious downsizing. While it has been very rewarding to rid ourselves of the physical clutter that seems to have accumulated over the last six years, we just can't downsize the items that bring us all together.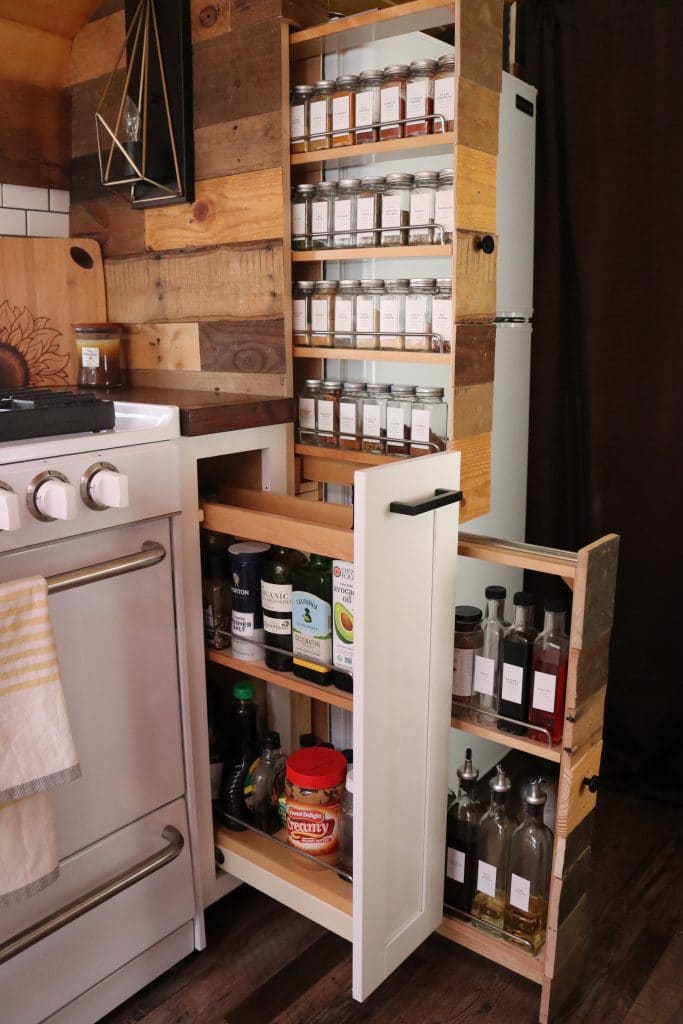 Whether it's an enameled Dutch oven for baking homemade sourdough bread, AUS-10 Japanese steel knives for cutting paper thin slices of tomato, or quality herbs and spices to bring something new to an old dish, it's all absolutely necessary to eat well. Although we built our entire house around the kitchen, on the grand scheme it is still very tiny.
We came across Rev-A-Shelf products at Home Depot and were amazed at the variety of products and build quality they had to offer. Initially we purchased the 3″ Base Cabinet Pullout for our spices but after realizing just how many ingredients we store at a given time, we knew we needed more. We got the 5″ Base Cabinet Pullout for taller items such as dressings, syrup, peanut butter, and honey.
When we still had our house we had one drawer dedicated to larger cooking utensils and another drawer for silverware. Since we wanted to condense our two utensil drawers into one, we got the Tiered Cutlery and Combination Drawer and it was a perfect fit. The top silverware tray slides back to expose the hidden bottom tray which now houses our bigger items.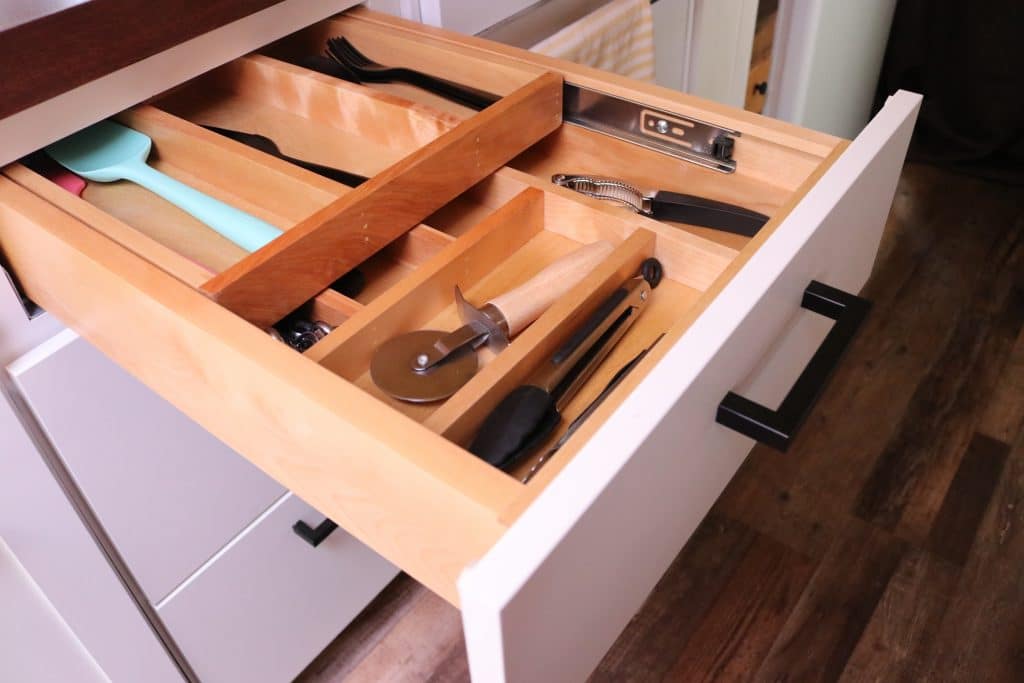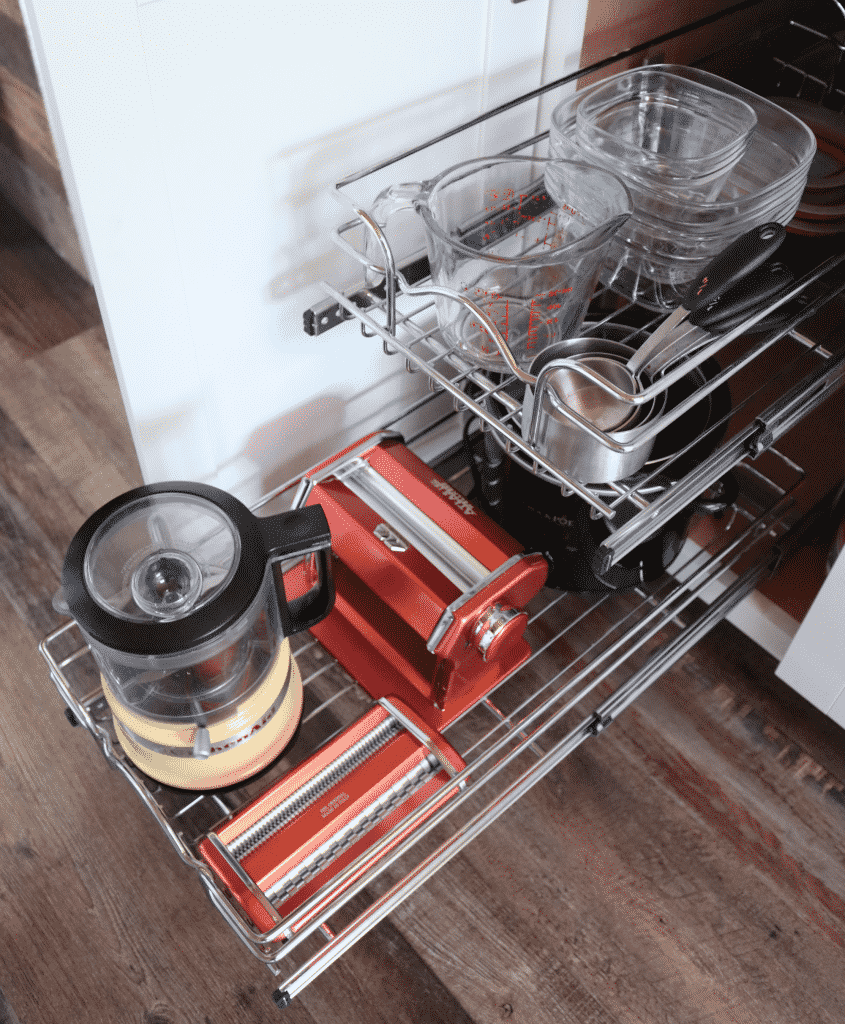 Living small also means having small appliances. For us these include a Nostalgia MyMini Personal Waffle Maker, KitchenAid Chopper, and a Marcato Design Atlas 150 Pasta Machine. Since we do not use any harmful cleaning products or chemicals that would typically be stored under the sink we had an entire cabinet to dedicate to appliances. We chose the 12″ Wide Base Kitchen Cabinet 2 Tier Pullout to house these items, and since they all fit perfectly on the bottom shelf we decided to use the top shelf for our Rubbermaid Glass Storage Containers, lids, collapsible strainer, and measuring cups.
Since we make one small bag of trash monthly, we had overlooked the need to store a trash can. We came across the 35-Quart Top Mount Pull-Out Kitchen Waste Container, which needed slight modification to fit into our small cabinet, but worked perfectly in the space.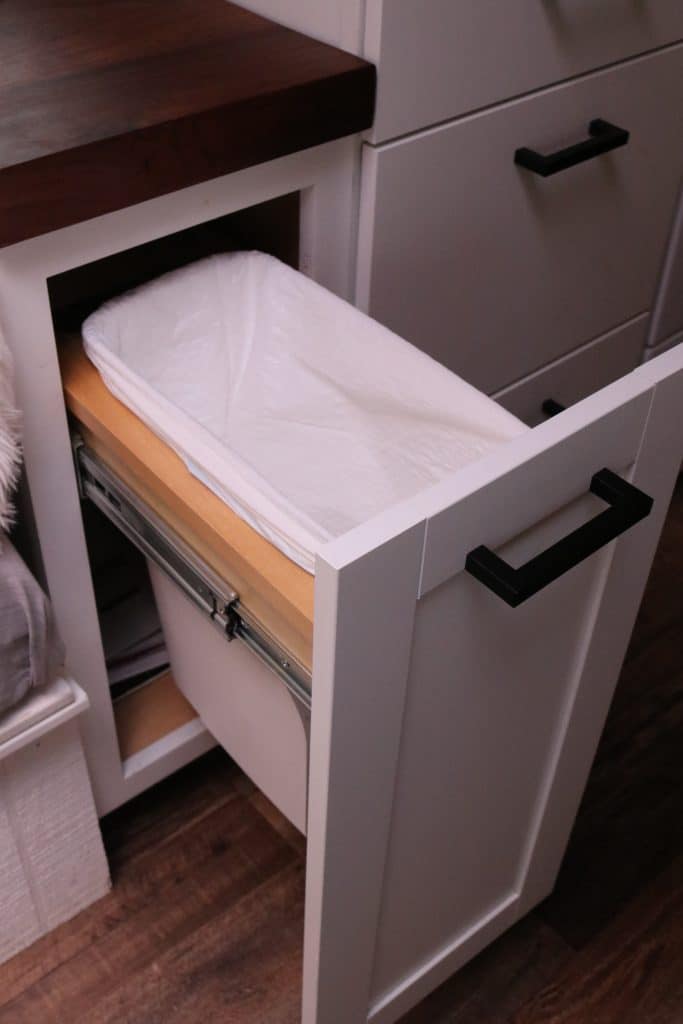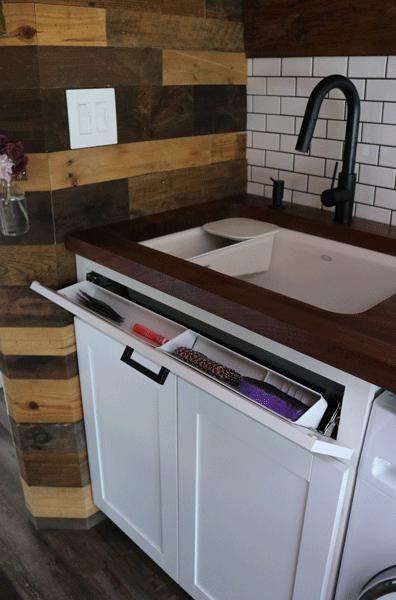 Lastly, we realized that we didn't account for items needed to keep dishes clean. We got rid of one of those items by deciding to install a soap pump into the countertop, but had no elegant way to store sponges and our cast iron scrubber. Since kitchen cabinets have what's known as a false front, we went with the 22″ White Polymer Lazy Daisy Sink Tip-Out Tray to make use of this shallow space.
We ended up with seven Rev-a-Shelf products that completely transformed our kitchen. This is the most functional kitchen we have ever cooked in, and we are unsure as to how we would have continued to live and cook the way we've become accustomed to without incorporating all of these incredible products into our build.