The flooring issues we were previously dealing with had convinced me (Dustin) that it would be the end-all reason for why the bus got sold to some unfortunate sap. Or, more likely "accidentally" caught on fire and left in some overgrown field waiting to be found by some lucky teens in skinny jeans, who definitely wouldn't fill it with used couches and smoke weed about it.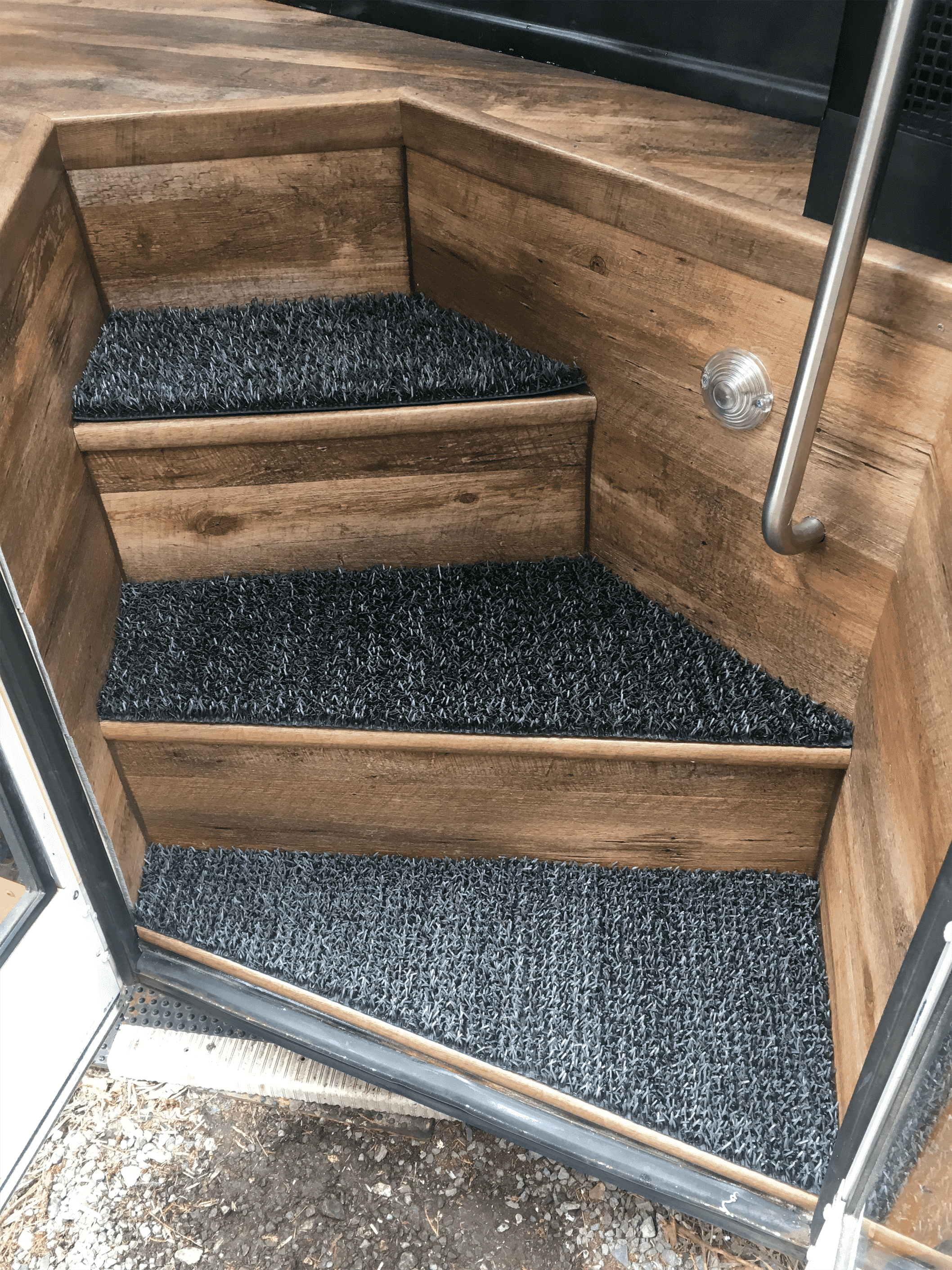 I'm not talking about our subfloor which was removed and reinstalled on five separate occasions… I am talking about our vinyl plank flooring. We did not post about this in any capacity because it was too infuriating to deal with, as it had been holding up the project for an entire year, and it wasn't yet resolved.
From almost the beginning of this conversion we had purchased what we thought was really nice vinyl plank flooring from Lumber Liquidators which you can read about here. The flooring was somewhat expensive, costing about $1,000 to do the entire bus, but in the end it looked very nice and we were quite pleased.
Like any other build we built up the walls, bed, and couches, and the filled the bus with appliances. It couldn't have been going smoother. As the weather began to get warmer, the planks started to ripple and warp upwards right down the middle of the bus from front to back. We looked again at the instructions in the leftover boxes of planks and there was nothing we missed. It is literally as easy as "click them together, now enjoy your new flooring". We talked to a flooring guy and he suggested even though we left room on all sides for expansion a little more couldn't hurt. We removed everything from the bus, took all the flooring out, and reinstalled them. This seemed to have been the trick and the build continued.
Winter is coming
Then it started to get cold. The planks began to shrink and split apart causing gaps where they had once all been connected. This wouldn't be a problem for some, but for us it was. What is the point of having $1,000 waterproof flooring if it was penetrable at every plank? We went back to Lumber Liquidators and they sold us a $7 bottle of glue. They said to remove the flooring again and glue all of the seams when reinstalling the flooring. We were a little frustrated that they would not have mentioned this to us when purchasing the flooring initially considering the bottle of glue was .7% of the cost of the entire floor. So once again we took everything out of the bus, removed the flooring and reinstalled it.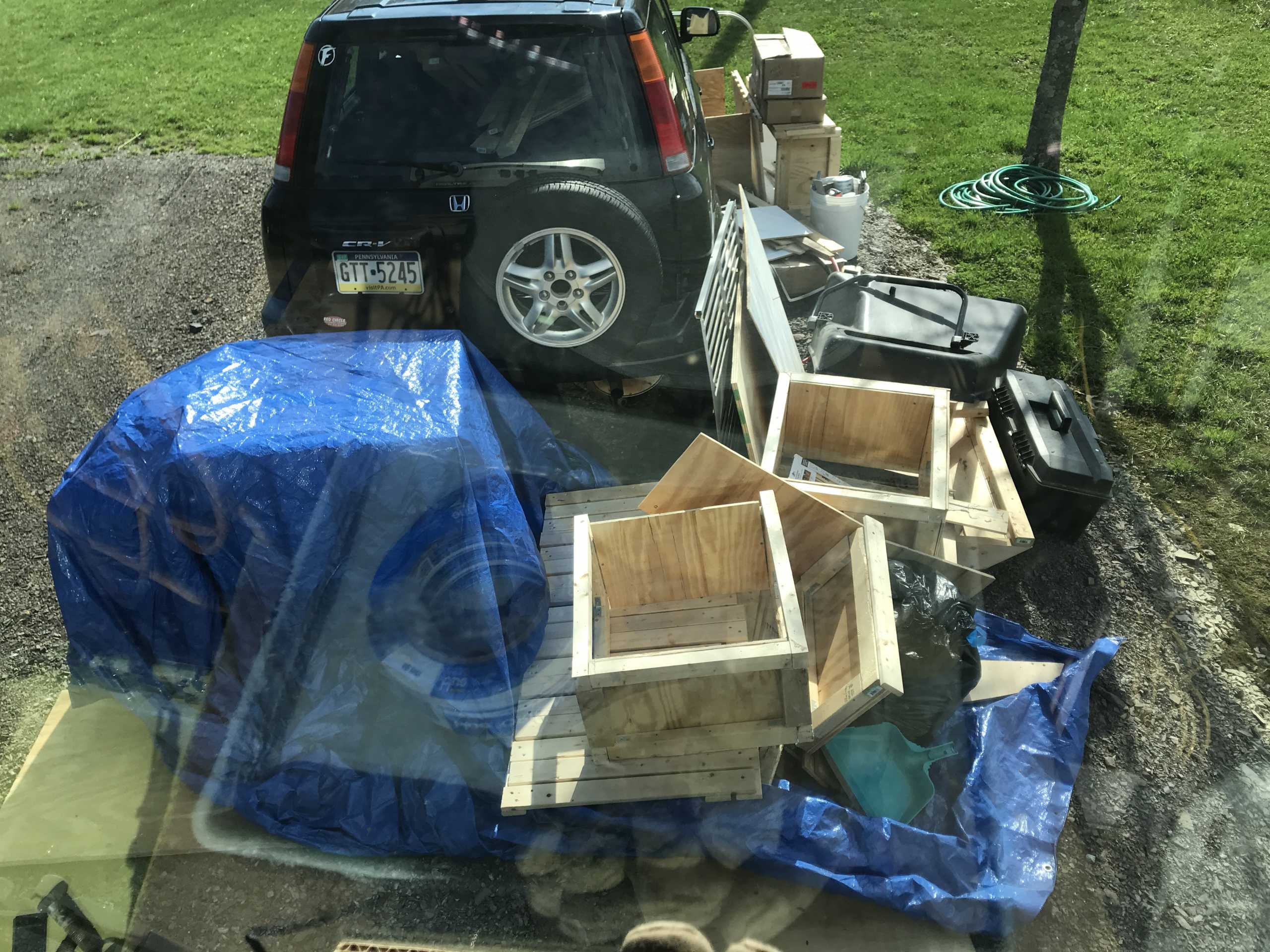 SUCCESS!… was short lived. Here comes our old pal summer.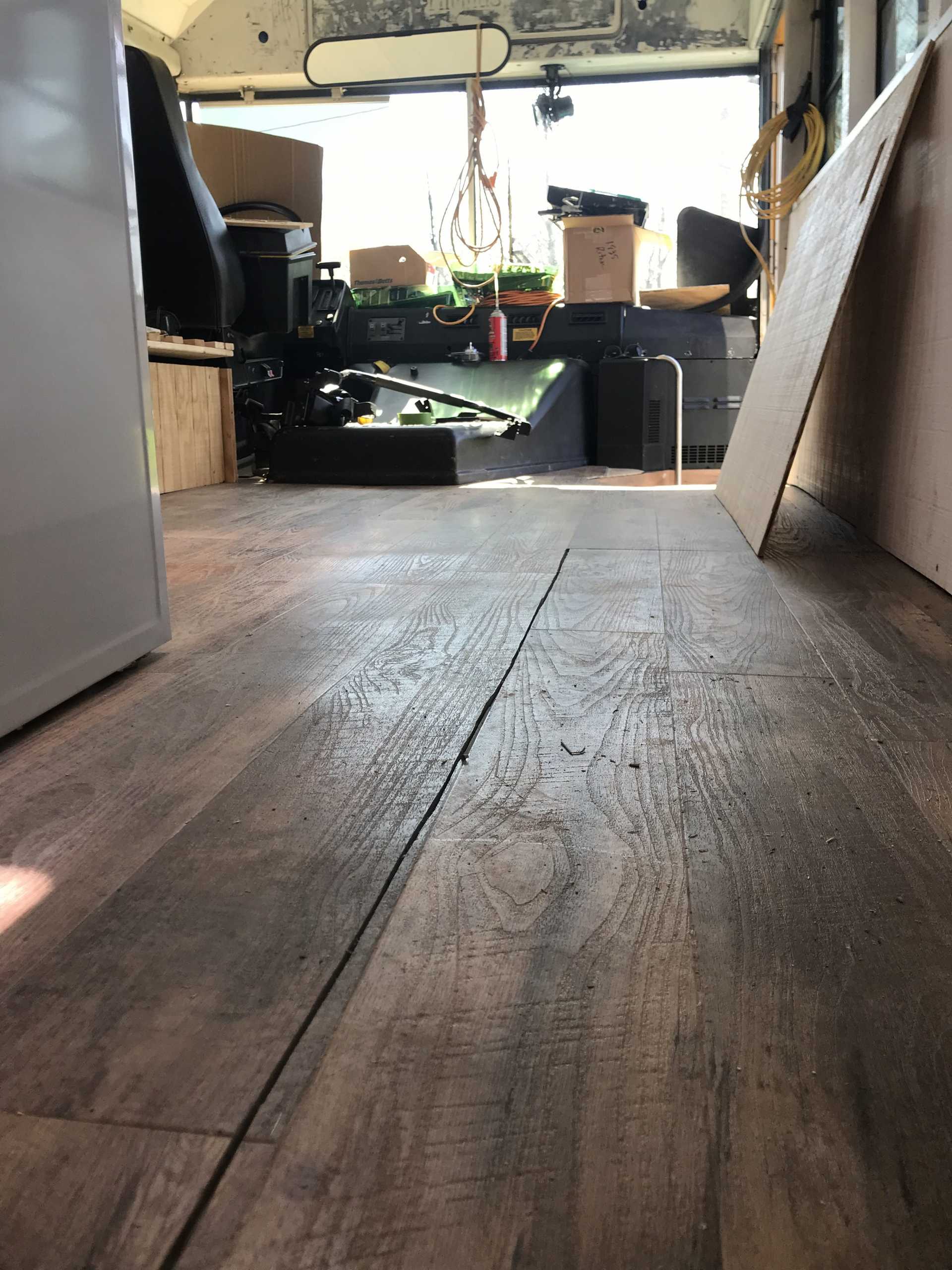 Because now all of the planks were glued together, the entire floor was warping as if it were a single piece, with the highest point warping upwards of 8″. We decided rather than take everything out of the bus for a third time, we would tape around everything and make some relief cuts using a circular saw. These cuts would not be seen since they were just under all of the counters and appliances and hopefully would allow for the flooring to flatten itself out. After several hours of cutting around everything, and several days letting the flooring level out, it was safe to say that it wasn't going to happen. Not only did the relief cuts made no difference at all, but it also made the floor unsalvageable.
We started a warranty claim with Lumber Liquidators hoping that this would be resolved quickly since we had now wasted over a year with this flooring. After they had us sign a bunch of paperwork and send them photos of both the warping and the separating, they stated that warping isn't covered under warranty and denied our claim.
As a consumer the best tool you have is a review, and boy did I write a lot. Well, Lumber Liquidators heard the message loud and clear. A few days later we were contacted and they said our refund was in the mail. Getting our money back was great, but being back at square one was really unfortunate. We had looked for that flooring for a while and it was aesthetically exactly what we wanted.
Enter: Cali Bamboo.
We wish we had found this company from the start. Their Redefined Pine Cali Vinyl Plus – Vinyl Plank Flooring was nearly identical to the pattern that we had fell in love with. The best part is that it is manufactured using a bamboo core which does not expand or contrast.
Other Features of Cali Vinyl Plus Flooring:
HiFi Wood Grain Imaging & Texture
Commercial grade 20mil wear layer
100% waterproof construction
Built-in Cork Underlayment
50 Year Residential Warranty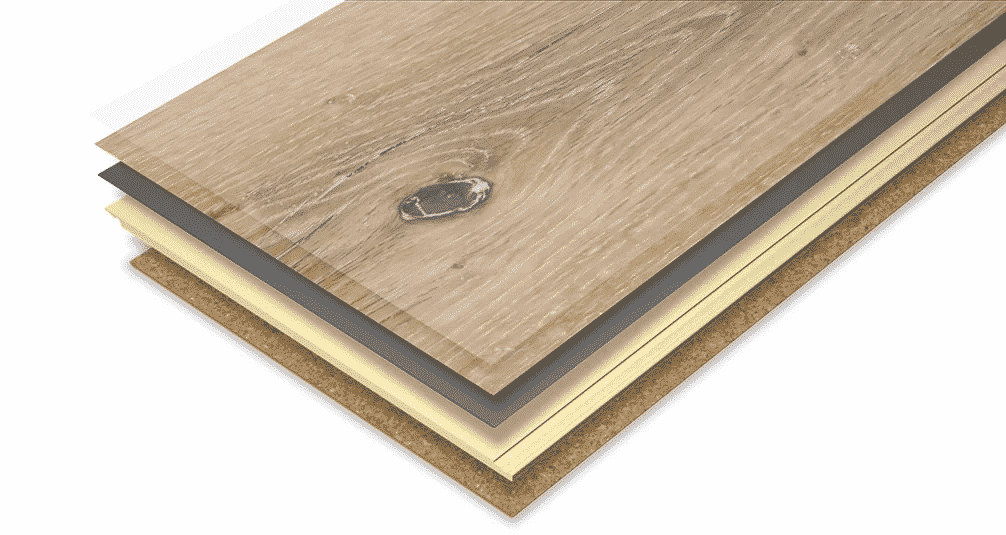 We ordered several boxes of Cali Bamboo's flooring which ended up being around $600 shipped. Once the flooring arrived we began removing all of the old planks and we ran into a bit of mold and mycelium growing under the sound dampening material. The mold was in the rear corner of the bus which was caused from water coming through the rear door that has no weather stripping. The mycelium was caused from water as well, but this water was leaking through one of the side windows that was not properly caulked.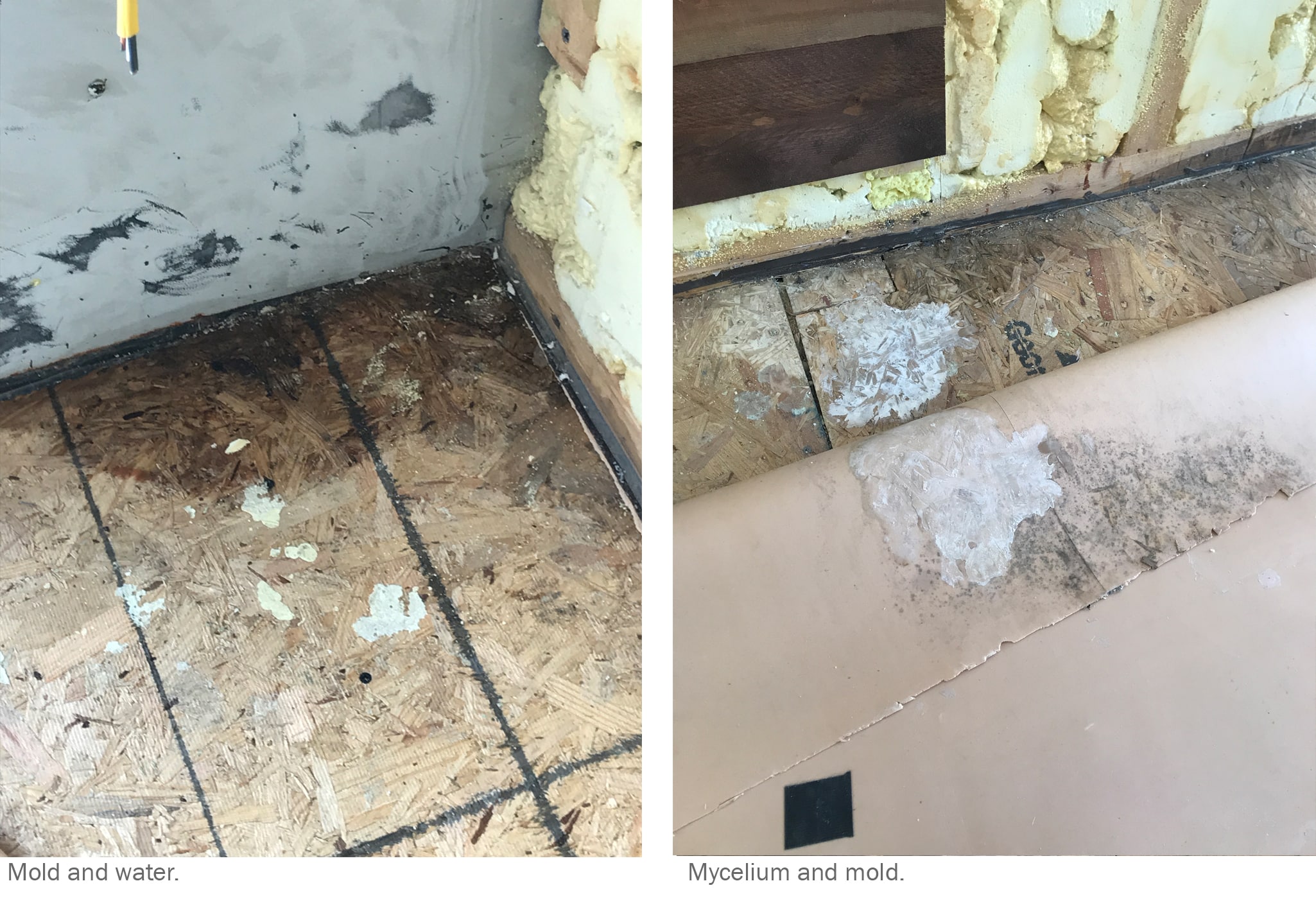 Once the two moldy areas were taken care of and fully dried, we started installing the new flooring. The Cali Bamboo planks are 8″ wide which meant a faster install than our previous planks. Everything went together… in a snap (HA!) and we were soon moving everything back into the bus for our fourth and final? time. Although Cali Bamboo's flooring was much cheaper, its quality if far superior. It feels much sturdier and has withstood several rocks being scraped across it. We need to start remembering to wipe our shoes better.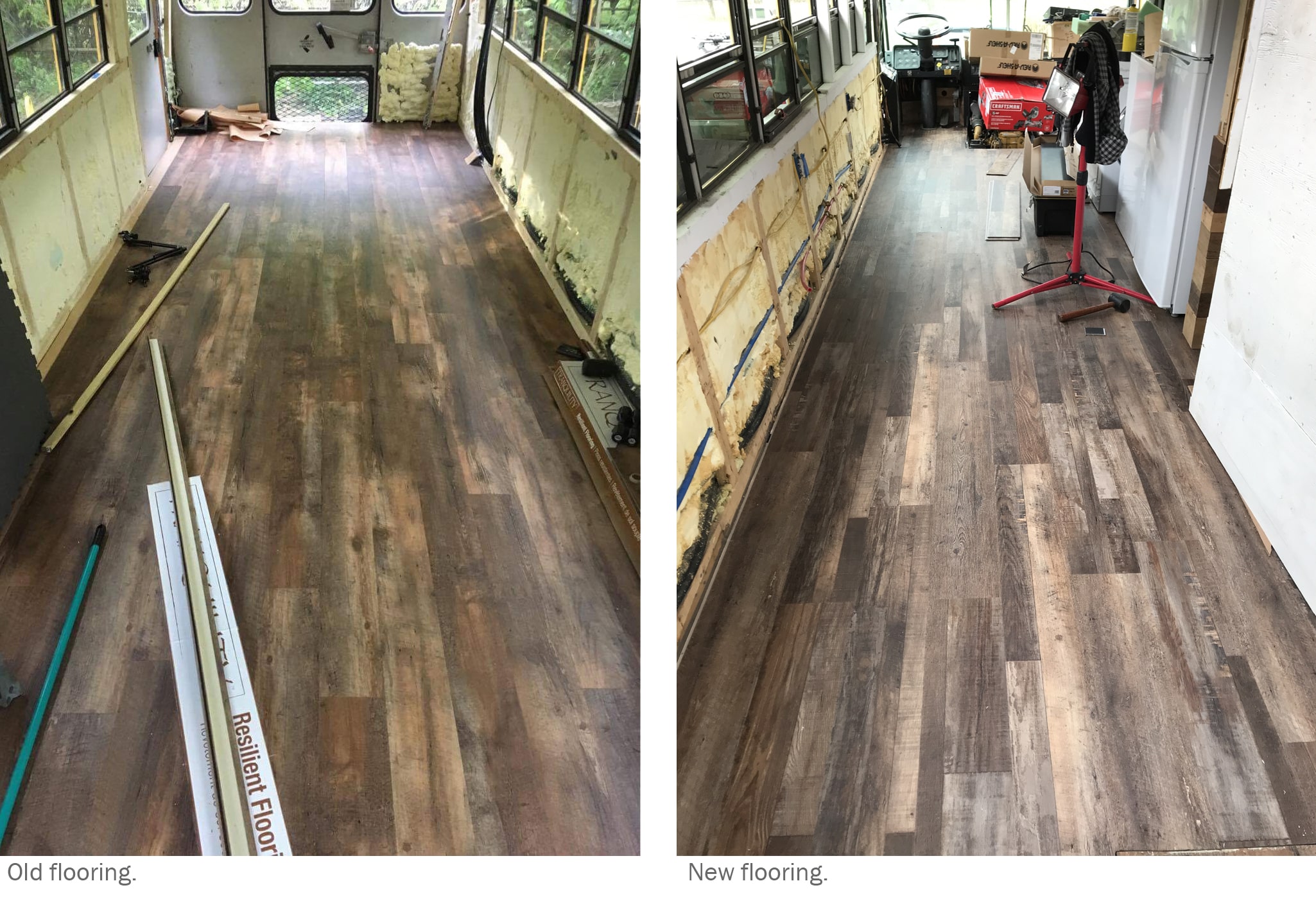 The build has once again begun to move forward and we are shooting to be in it full time by October 2019!