Like many of you, we are experiencing converting a bus for the first time. As a community, it's our responsibility as a whole to help each other with various stages of the build, as well as products to avoid. We have been eager for some time to insulate using spray foam, and went looking for a foam with a high R value, ease of use, and moisture resistance. The first product that popped up on Google was Foam-It-Green. It seemed like a good product with a lot of positive reviews, and videos of how to properly use the product.
We calculated the square foot needed by measuring one roof panel's and multiplying it by the amount of panels total. This same calculation was done for the walls as well but with a slightly deeper depth of 3.5″. The total came out to 480 sq ft which meant we needed the 600 sq ft kit.
All of the documentation we read prior to purchasing the kit stated an extreme emphasis on temperature while spraying. We decided on the 602 Super Pack since it came with an infrared thermometer, respirator with cartridges, headlamp, and drop cloths for an extra $100. This would insure we would have accurate temperatures while spraying and maximum personal protection.
The kit was shipped in three separate boxes. Two of the boxes were the tanks, and the third box was the $100 Super Pack. Upon inspecting the kits we realized that there were some items missing. The mask we paid extra for was missing from the Super Pack and the tyvek suit included for free in each kit was missing from the tank box. The following are the emails sent and received by the company.
I got my kit today and it is missing the mask/filters and tyvek clothes. My order number is xxxxxx.
<Help@guardianenergytech.com>
Good morning Dustin,
I show 3 boxes delivered 1/26. The little box, 1Z37653W034976852 had the SuperPack items which are the mask with cartridges (that comes sealed in their paper-ish packaging), plastic dropcloths, temperature gun and headlamp.
The 17 extras – hooded tyvek suit, goggles, gloves and extra nozzles and tips will be in the kit B box, the box with the white tank. Thank you for confirming back that you do have everything ordered,
Janelle.
I don't have everything.
<Help@guardianenergytech.com>
Dustin,
You need to be more specific.
You signed for 3 boxes. What specifically are you missing?
You need to pull the packing list and circle what you claim isn't there and email us a picture. Please also take a picture of the 3 boxes opened so we can see what you see.
Orders are double checked before leaving on UPS, so we need your help to identify what you believe you are missing.
Janelle.
I am missing the items that I listed I was missing in the very first email. I got all 3 packs but they were missing the items mentioned.
<Help@guardianenergytech.com>
We will send a tyvek suit and mask with cartridges today.
Janelle.
A few days later we got the missing items and everything was fine, but this would not be the last time we heard from Janelle, the president of Foam-It-Green. It wasn't until a month later that we had a warm enough day and we could actually spray. Not only would be we insulating the bus, but we would then be able to then wire, install the the wall and ceiling panels, and finally start to frame.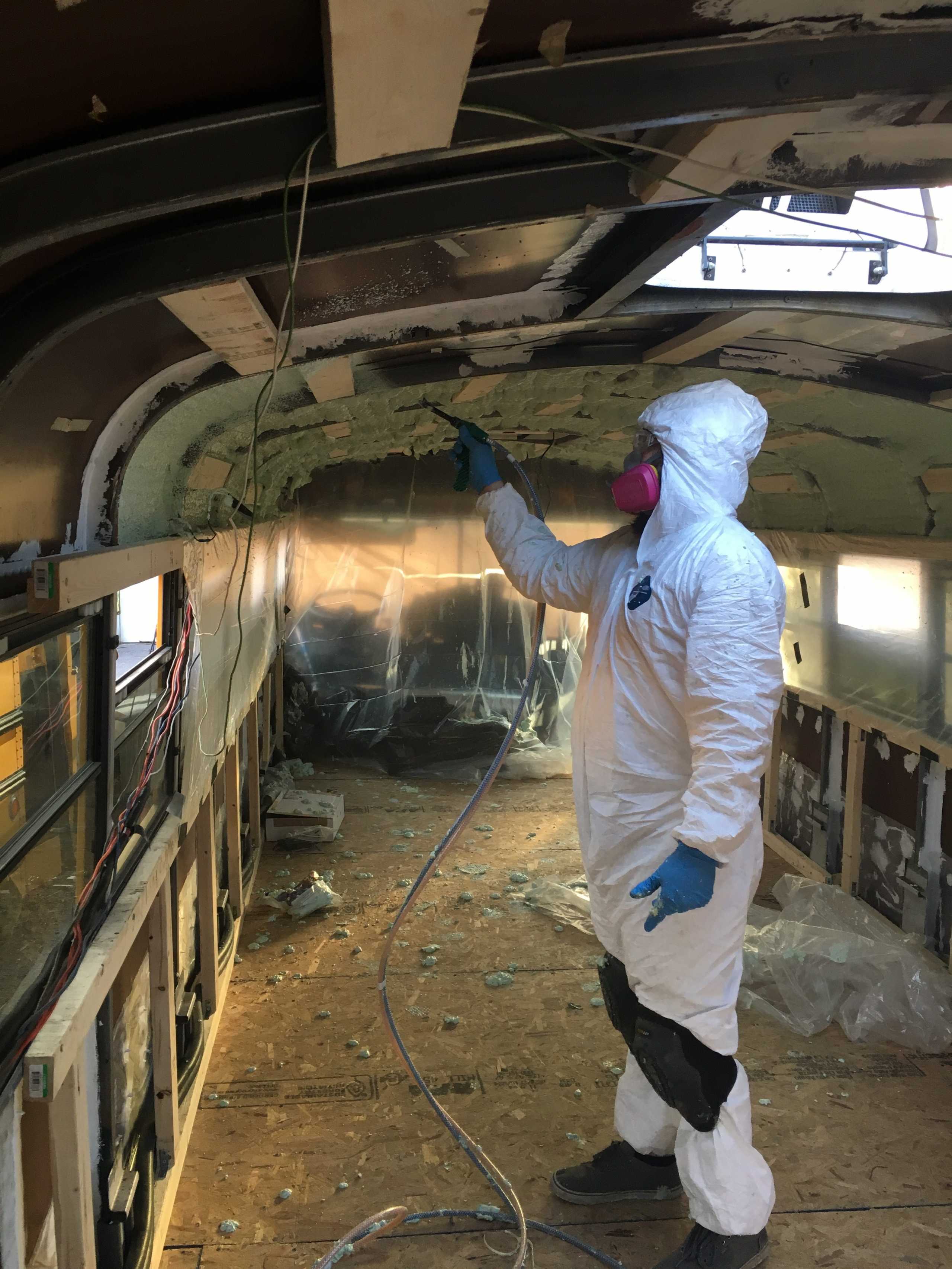 We purchased another tyvek suit and mask so that we could both be in the bus spraying together. When we finally got everything setup and ready to spray, we used the infrared thermometer to test our surfaces. The metal walls and ceiling of the bus were a perfect 70°F. We put our personal protection equipment on, and after shaking the tanks for a few minutes and connecting the hoses, we were finally ready to spray. We sprayed the ceiling and while that cured we moved on to the walls. Once we were done with the walls, enough time had lapsed and we were able to go back and put another layer on the ceiling bringing it out to the 2″ depth we calculated for.
Houston we have a problem…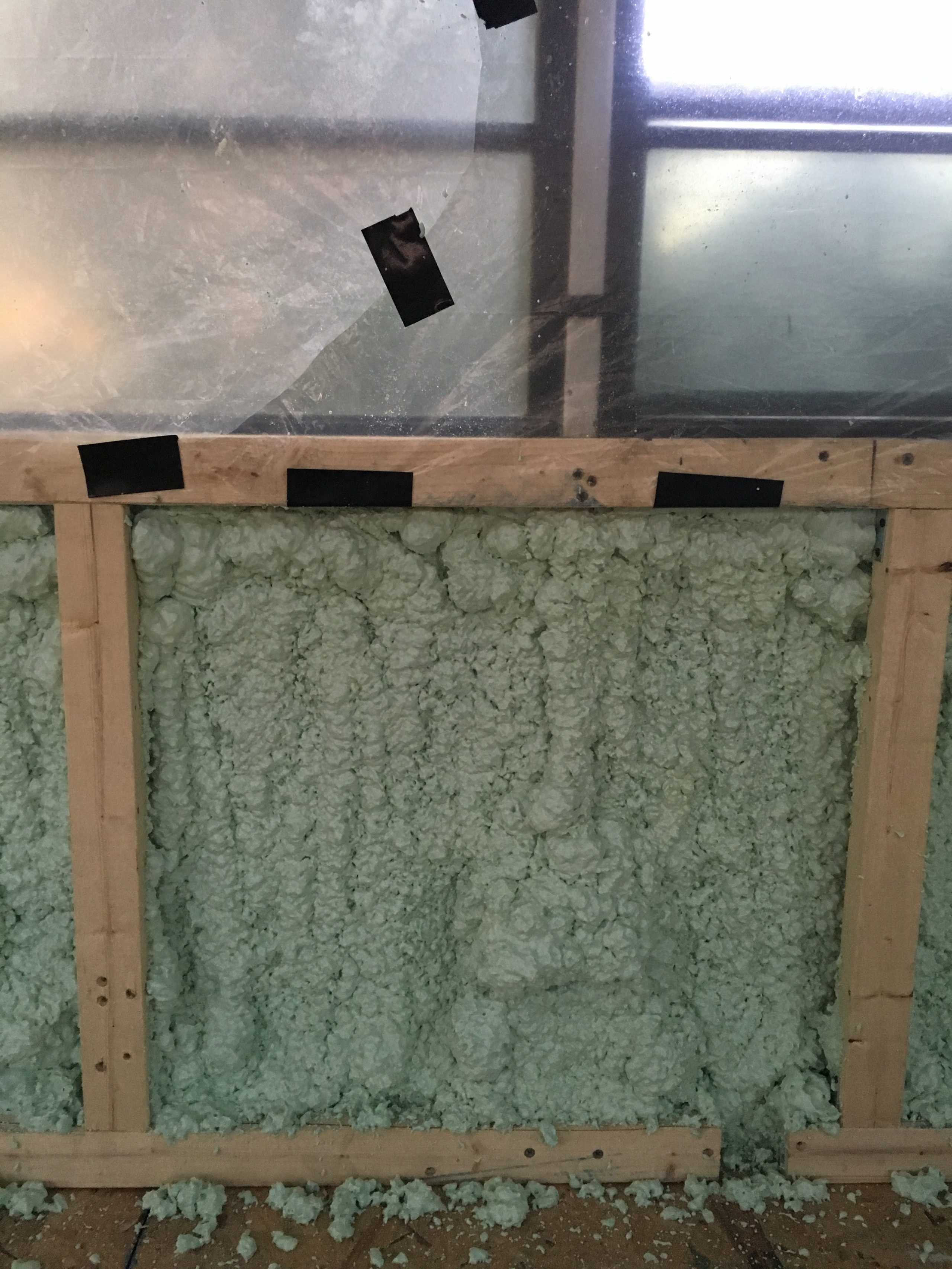 We ran out of product before we were finished with the walls and we didn't even touch the front or rear of the bus ceiling. Janelle's solution was to "buy another kit." We figured because we spent nearly $1000 on this kit and ran out before completing the job, it would be beneficial to others to write a quick and honest review on Amazon about how their product doesn't cover the square footage coverage.
We obviously needed to finish our spray foam job and we started looking into other spray foam products such as Tiger Foam and Froth-Pak which our friends used with great success.. After several weeks of trying to decide what to use, we ended up ordering another small kit from Foam-It-Green. We ordered the 202 kit because we didn't want the chemicals from another kit to have an adverse reaction to the chemicals used in Foam-It-Green's product.
We got a confirmation of our order and waited for it to arrive. After a week passed and no tracking number was received via email we decided to give them a call and find out what was taking so long. They took our information and said they would investigate it and call us back. About 20 minutes later, Janelle called back. She said that because we "ripped them apart on Amazon" she cancelled the order. She also stated that if we were to take down the review they "would think about letting us purchase from them again."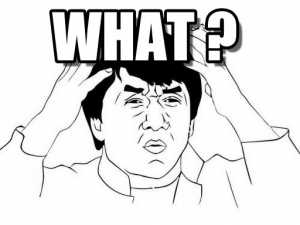 We told Janelle that because of her vindictive attitude towards us we would instead file a BBB complaint detailing the companies false square footage claim. This is when she really lost her cool. The following are messages sent and received using the BBB Consumer Complaint Hub.
This product is a complete scam. It does not do anywhere close to the sq ft that they website and product advertises. Because I wanted to finish my product with the same product as I started with, I reluctantly purchased another kit. They cancelled my order and didn't even send me an email saying they had done so. Janelle said that she cancelled my order for "ripping them apart" on an Amazon review I did which stated the truth about their false claims of sq ft coverage.
On 1/25, Dustin bought online*. We almost canceled his order then because we knew he was going to be trouble. He does this regularly to companies, proudly publicly displaying the hashtag #BoycottStuff. Since Foam it Green is the perfect product for his project, we decided against our best judgment and fulfilled his order. And, sure enough, on 1/31, Dustin called claiming he didn't get the tyvek suit and respirator mask that came with his order. We knew this wasn't the case and that he was just trying to get free stuff, but we sent replacements anyway.
In March, Dustin publicly posted a video of him and a friend each wearing our tyvek suit and respirator. So, he did get the original tyvek suit and mask, and therefore has already stolen $60 worth of product and shipping from Foam it Green. I've included a screenshot from that video to showing 2 tyvek suits and 2 respirators. (His friend also purchased a kit, but not a respirator.)Dustin never contacted us while he was spraying, as he never had issues. Per the video (see 2nd screen shot), he made excellent green gorgeous foam that looks to be about 3 inches+ deep. Dustin's complaint is about yield – but yield is controlled by the user of the kit.* The kit worked perfectly. It's ok that Dustin sprayed thicker than he first budgeted for, and that he needs more foam to complete his project. But, again, that's not the fault of the product or company.
While telling the world through Facebook, blogs, Instagram, Twitter, Amazon and now BBB to boycott Foam it Green, he was secretly, surprisingly buying more foam under his girlfriend's name because he knew he liked the product and needed more. We canceled that 2nd order right away, refunded his money, and he would have received emails from both the credit card company for the refund and our online order system saying the order was refunded. He never spoke with Janelle. He spoke with Jen. She never said "ripped us apart." She simply explained that we're not going to do business with people who are aggressive against the brand online and explained that if he takes down his libelous comments, we may consider selling to him again.
*Purchasing online, Dustin agreed to the terms and conditions, which state that yield of this do-it-yourself product is under the control of the user, the instructions need to be followed to get great results, and that if there is any question about the kit or foam he is making to stop and contact us.
We ask that BBB completely remove this case based on our right not to do continued business with someone who has stolen from us and stated libelous and disparaging comments about the product online.
I am rejecting this response because: You are complete liars. I have dealt with Janelle since day one and have all the emails to prove it. Again, third time now, Lowes and Home Depot sell those suite and masks. You act like they are proprietary because you don't want to be caught selling over priced junk to people. Rather than make it right, you want to continue to blame shift and lie, which is fine since this is all publicly documented. Here is further proof that I never demanded a free suit or respirator which you said I did in a previous message, another lie. This email also shows proof that I was dealing with Janelle, which you also lied about. It must be convenient for you to drop the last 4 letters of her name and pretend that it is a different person. I'm confused why you are mad at me when it is your company that falsely advertises their product and then insults and belittles a customer that caught you in the lie.
Foam it Green has 50,000 customers in over 14,000 cities across the United States, has over 2500 positive ratings on Shopper Approved, over 1500 testimonials directly to our site from happy customers, 2000 fans on Facebook, hundreds of Youtube videos, and has been in business for 10 years. In this review, Dustin claims he's used another brand and it works "amazing" – but he was attempting to buy Foam it Green 3/20/17.
This review is only coming because we declined doing more business with him based on his poor behavior. We request that BBB close and remove this case on the grounds that Foam it Green has the right to decline doing continued business with someone who is actively aggressive towards our brand. Dustin posting #BoycottFoamitGreen all over the web while purchasing more product telegraphs that he is not a good fit for our family of amazing customers. He regularly does this to other brands and companies and even says #BoycottStuff in general.
Facts of the situation: On 1/25, he ordered on our website. We considered canceling and refunding the order at that time because we anticipated that he was just going to be a problem based on how he interacted with us initially. Sure enough, when his order delivered (1/31), Dustin claimed he didn't get a Tyvek suit or respirator and demanded we send replacements. Even though we knew he received those items, we sent replacements. One week ago, Dustin posted a video on his Instagram and blog of him and his friend each wearing our Tyvek suit and Respirator so our suspicions were confirmed that he had lied to get over $60 of items and shipping from us for free. They were making good foam. It's actually a nice video of the product working well. The thickness of his foam is over 3 inches based on what the video shows, so Dustin actually got everything out of the tank, all 600 board feet of foam. It's ok that he sprayed thicker than he expected and therefore needed more to finish his project, but that's not an issue with the product or company. Given all the negative activity towards the brand, we were surprised that Dustin placed a new order on 3/20/17 (under his girlfriend's name). We assumed he was either going to steal from us (again) or just continue to make libelous comments about the brand online, so we declined his business, and refunded the new order right away. It is only after we declined his additional business that now he's writing the BBB.
I wanted to finish out my project with the same material I started with. The Foam it Green company has shown, and continues to show extreme assumptions with the customers that file complaints. After the continuously rude treatment I have been given from the start, and after speaking with Janelle on 3/21/17 about why my order had not shipped out (used a different card because I did not have enough money on mine), Janelle told me to go ahead and write a BBB review/complaint so I obliged. My complaint is not that they refused my business. My complaint is that they are falsely advertising their products square footage.
I posted #Boycottfoamitgreen after I ran out of product before the sq ft that it said it would cover and after reading about all of the other people with the same experience. I encourage this company to show proof of another company we have had ill dealings with. #Boycottstuff is exactly what it says it is. "Stuff" People that are consumed by things rather than enjoying their friends and family and living within their means. It just so happens that now Foam it Green is something we recommend people boycott. More so now that Janelle wants to keep blame shifting rather than take responsibility for a company she is in charge of. Your product, similar to 65″ flat screens, and $80,000 cars, your product is over priced and are not worth its weight.
When did I ever demand you send me a tyvek suit and mask? I posted the entire context of the email exchange regarding the missing items in my first message. Lowes and Home Depot sell those suits and masks. We never received a free set, but rather, after some time, the set we PAID for. Had I known the aforementioned stores sold those and all of the other products in the Super Pack I would have bought them there and saved $70. Yes, I WAS wearing your tyvek suit and respirator that I PAID for. My friend was also wearing a set that was purchased separately. You are a real detective. Without knowing or even asking the sq ft total of our project, which I again mentioned in the first message, you assume the kit was more than enough. Tell me, how do you calculate sq ft without knowing any other dimension other than 2″ thick? Yes, I emptied the tank, but it was well before 600 sq ft. I left an honest Amazon review and you're butt hurt about it. Yes, I ordered more to complete the project with the same product since I do not know how another product would react on top of yours. It doesn't mean that you are not guilty of false advertising. You clearly have no interest in correcting this issue which is fine. You are acting just like you do with literally EVERY other complaint I have read. I am glad that you are a member of the BBB as this is documented and will permanently show the demeanor of the company, president, and employees. False advertising is false advertising. Sorry that you're mad a few of us have caught you.
So that pretty much sums up our experience with Foam-It-Green and their president Janelle. We highly recommend that you avoid any and all of the Foam-It-Green product lines. When they are caught ripping people off they get incredibly defensive and start throwing out assumptions between every lie they tell. All of the products included in the Super Pack for $100 can be purchased for about $40 total on Amazon with free shipping.