Initially we thought that having tinted windows would be great for keeping our newly acquired lifestyle a little more private. While, they do make it more difficult for those outside to see in, it also keeps the inside of the bus darker than the bat cave.
After deciding that the factory escape hatches were not our style, we started searching for replacements. Almost immediately it became apparent that no bus company manufactures higher end replacement hatches. Why would they? Buses are meant to transport crotch goblins back and forth to school safely, and not meant to be transformed into luxury homes.
Eventually we came across several websites that specialize in boat parts and accessories. We realized that most everything that is made for multi-million dollar yachts or sail boats are seemingly perfect for a skoolie conversion. The problem we ran into was finding sizing information and real photos of the hatches. Companies that sell yacht hatches use horrible stock photos and know nothing about the products they are selling. This blew our minds considering they were asking upwards of $1,500 per hatch. Ocean hatch, standard hatch, smoked glass, clear glass, flange base, flat base, and the list went on. None of our questions were getting answered!


Finally we decided to call a manufacture directly. Lewmar makes some of the nicer hatches we came across with built-in gas struts hidden within the hinges. We spoke with a very nice and knowledgeable lady that had ALL of the answers we had been searching for. Now that we knew what we were looking for it was time to fine out where we were going to purchase it. Hours of Googling took us to a place we should have searched in the first place… Amazon. We found the exact hatches we wanted for almost $300 cheaper per hatch than the leading boat shops. Damn you Bezos.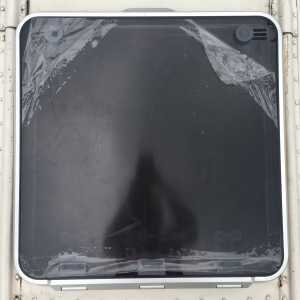 We purchased two smoked glass, size 70 (27 5/16″ x 27 5/16″) hatches with double locks and flange bases as well as two trim kits for the interior. We ended up returning the trim kits because they were made from the cheapest plastic that we had ever seen, and frankly we were in awe that they would even sell such a flimsy product to accompany their beautiful hatches. The smoked glass lets in plenty of light while also protecting the interior from harmful UV rays as well as our privacy.
[amazon_link asins='B005GLQNG8,B00D36TLBC,B00H554R98,B01LZXOC77′ template='ProductCarousel' store='sasquatters-20′ marketplace='US' link_id='064e41e0-4fbb-11e7-a054-a31c872b3daf']