There's no denying that we live in the age of technology. Growing up in the early 90's playing games like Doom, Duke Nukem 3D, and Starcraft on a Compaq Presario CDS 520 running something like 512kb of RAM is still one of my fondest memories. One of the things most fascinating about watching technology evolve over the years is that nearly everyone our age has always had internet. Because of this it's something we can definitely take for granted.
We look up local eateries while on vacation, we see where gas prices are the lowest, we post "HILARIOUS" memes to our friend's and families Facebook (you tried your best dad). The point is, the internet is an integral part of our lives, and not everyone that wants to live off-grid wants to be without modern amenities
When we moved into our new house in November 2017 we decided to not transfer our internet for a few reasons:
Eliminating another bill.
Transferring service was $150.
There are free hotspots EVERYWHERE!
After about our third night at the new house with no Pandora, we decided that we needed to buy a wireless antenna. Buying an antenna now instead of waiting until we were living in the bus would afford us the opportunity to test everything and ensure proper functionality, since there is not going to be room for large technology projects like I am used to. A plug and play setup was an absolute necessity.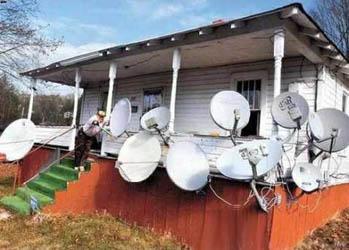 We jumped on eBay and purchased a $50 WiFi USB antenna. Although the range was not very good, we were picking up about 4 different signals within our neighborhood, one of which was open. The antenna worked great for what we needed, but in order to broadcast our own local network within the house, we had to have the PC acting as a virtual router through Window's terrible network sharing utility, and our old physical router acting as a bridge. It was all very overly complicated for something that should be quite simple. The worst part was that once the PC with the USB antenna was turned off, our home network went down because the PC was the router.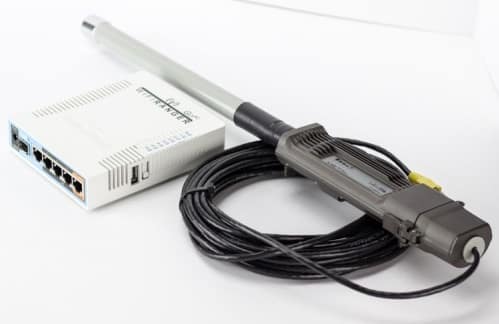 I got in contact with my old computer information systems teacher Chris Champion who is a very like minded individual with a really cool 1986 Scamp-13. I explained to him that while our current antenna was working fine within our neighborhood, we needed a long range solution for when we were boondocking. He sent me a link to a company called WiFiRanger, which specializes in antennas for RVs and sailboats.
We ordered the EliteAC pack which runs off of 12v and is exactly what we needed. The range on the antenna is 2 miles and it certainly shows. We went from having 4 WiFi signals to over 30! If for some reason the antenna gets disconnected from the current network, it automatically connects to the next strongest open network for seamless internet access. There are a TON of features on this new antenna, and it comes with a router which allows us to connect all of our devices, which will be great when we want to turn the AC on while walking back from a hike in the middle of no where. The best part is we can do this all now without keeping the PC on 24/7! Our solar will thank us dearly.
Stay connected!